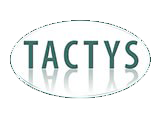 TACTYS is a french company which invented the tactile glass keyboard in 2004. We gained a great experience and remained a pure player company on capacitive-based technology.
In our laboratory the TACTYS engineers develop also customized keyboards and HMI (Human Machine Interface) applications from the client specifications.
Our products are 100% french.
Tactys is planted on Touraine -France.
Adress :
N°1 LD La Lardière  –  37460 ORBIGNY – FRANCE
Phone number : +33 (0)247 943 440
Email: info@tactys.com