TACTYS: The specialist for touch keyboards
Tactys has been developing and manufacturing capacitive keyboards since 2004. Tactys was one of the very first companies to enable germ-free data capture. Over time, the devices conquered a wide variety of areas from hospitals to industry. Today, CLEAN | SMART | BEAUTIFUL stands for the product and solution range of the French company.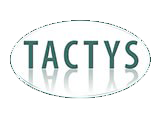 TACTYS is a French company specialising in clean and mobile computing.
Creator of the tempered glass medical touch keyboard, it designs computer solutions that meet the hygiene and technology requirements of the medical and ultra-clean sectors.
TACTYS develops its solutions and benefits from a network of specialised regional service providers for assembly, thus guaranteeing a 100% French design.
Nouvelle adresse :
N°1 lieu-dit La Lardière
37460 ORBIGNY FRANCE
Nouveau n° téléphone :
Tél: +33 (0)2 47 94 34 40
Mob: +33 (0)6 58 84 20 00
Email: info@tactys.com