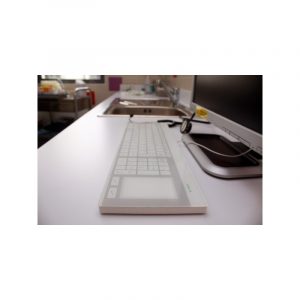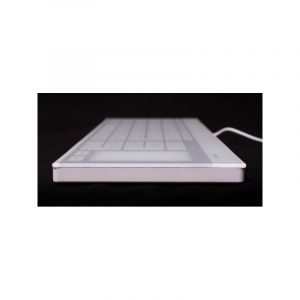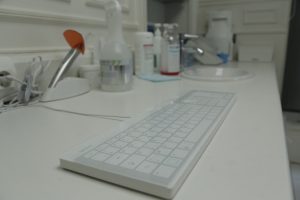 SLIM 811, with a true touchpad
The SLIM 811 is a full features keyboard..
96 keys, numeric pad, all shortcut keys and specially a true touchpad, independant and with direct acces.
The SLIM 811 has new functions for a best ergonomy :
Taptop function makes the typing easier. TapTop targets the good key even if the finger placement is approximative. With TapTop function, the keyboard corrects those mistakes and provides a fluent and convenient typing.
Lockin function to clean the keyboard, the Lockin key locks the keyboard so that you could swipe it without send codes to the PC. Moreover, thanks to the Lockin function, the keyboard locks itself in contact with an object such as a folder. Therefore it can stay on the middle of your desk with paper on it.

SPECIFICATIONS :

True and independant Touchpad XXL 78 x 55 mm
Smooth glass surface
IP65, resistant to all chimical agents used in clean rooms or hospitals
Sensivivity and audible beep adjustable
Works with gloves
Plug & play, Mac/PC V
Cordon USB 1,80 m de long
Dimensions : 430 x 140 x 12 mm
2 years warranty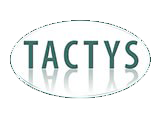 TACTYS is a french company which invented the tactile glass keyboard in 2004. We gained a great experience and remained a pure player company on capacitive-based technology.
In our laboratory the TACTYS engineers develop also customized keyboards and HMI (Human Machine Interface) applications from the client specifications.
Our products are 100% french.
Tactys is planted on Touraine -France.
Adress :
N°1 LD La Lardière  –  37460 ORBIGNY – FRANCE
Phone number : +33 (0)247 943 440
Email: info@tactys.com