You would like to contact a reseller in your country. Please, send us a mail at : info@tactys.com. The TACTYS keyboard are available in differents languages : QWERTY (UK, SP, DK, NO, IT, US….), QWERTZ (DE,SW), AZERTY (FR, BE)
You are a hardware, medical or dental supplier, you want to sell our products to your country. You are welcome.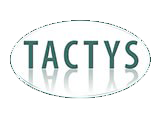 TACTYS, spécialiste de l'informatique propre et mobile est une entreprise française.
Créatrice du clavier tactile médical en verre trempé, elle conçoit des solutions informatiques qui respectent les exigences d'hygiène et de technologie des secteur médicaux et ultra propres.
TACTYS développe ses solutions et bénéficie d'un réseau de prestataires régionaux spécialisés pour l'assemblage, garantissant ainsi une conception 100% française.
Tactys déménage ses bureaux de Velizy pour s'installer en Touraine.
Nouvelle adresse :
N°1 lieu-dit La Lardière
37460 ORBIGNY FRANCE
Nouveau n° téléphone :
Tél: +33 (0)2 47 94 34 40
Mob: +33 (0)6 58 84 20 00
Email: info@tactys.com