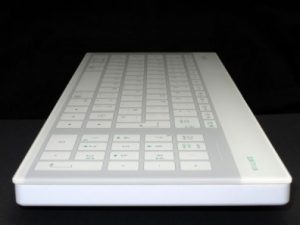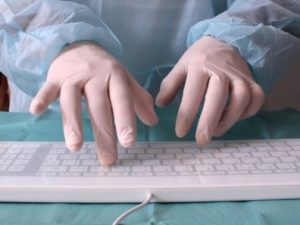 SLIM 711, a compact keyboard
SLIM 711 has 96 keys, a numeric pad and all the normal keyboard shortcuts. As it is so small, it can be used anywhere : on a work station, operator's console, trolley, arm rest etc.
Elegant, its refined design fits in anywhere: clean rooms, dental clinic, laboratories and food processing environment etc..
The advantages of the SLIM 711
Flat glass surface: No bumps or diffi cult to access areas make cleaning easy. No crevices to harbour dirt or germs. So, easy to clean : with one simple wipe, saving time and ensuring a germ-free work surface.
Resistant to all chemical agents used in hospitals or clean rooms.Tempered glass is tough, durable and impermeable to fluids. Does not degrade or discolour as with silicone or plastic keys.
All surfaces are waterproof to IP65: it can withstand liquid spillages, damp atmospheres, jet washing, disinfectant sprays etc…
Works with gloves: all types of gloves (latex and nonlatex), even double thickness ones.
Ergonomic: adjustable sensitivity. Its new control system allows it to adapt to each user.
Locking function for instant cleaning.
Taptop function for a fluent and comfortable typing.
Adjustable audible beep
Plug and play: simply connect and it works immediately.
USB cable 1,80 m
Dimensions : 380 x 140 x 12 mm
2 warranty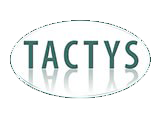 TACTYS is a french company which invented the tactile glass keyboard in 2004. We gained a great experience and remained a pure player company on capacitive-based technology.
In our laboratory the TACTYS engineers develop also customized keyboards and HMI (Human Machine Interface) applications from the client specifications.
Our products are 100% french.
Tactys is planted on Touraine -France.
Adress :
N°1 LD La Lardière  –  37460 ORBIGNY – FRANCE
Phone number : +33 (0)247 943 440
Email: info@tactys.com